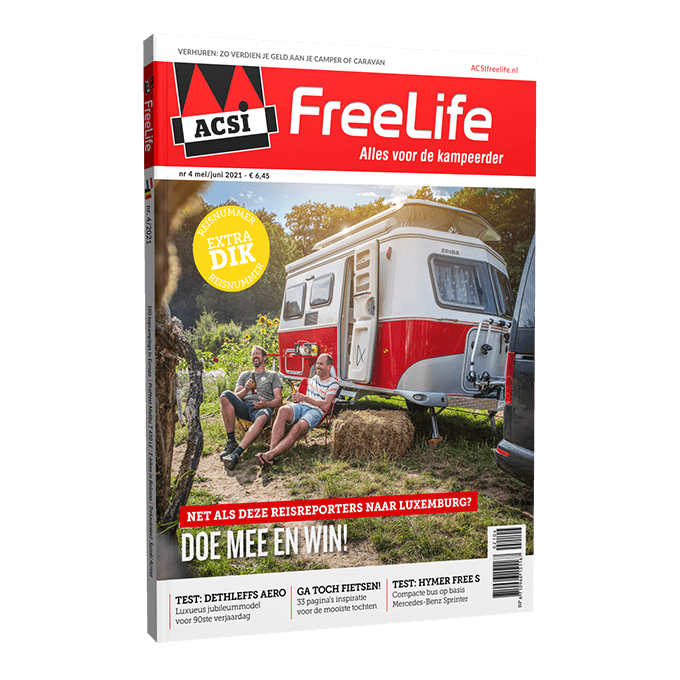 ACSI FreeLife is the brand within Europe's camping specialist ACSI which provides camping lovers with camping information and inspiration. In a positive and pleasant way, the editorial team uses online and offline resources to show you where you can go camping and, above all, the equipment you need to make it as comfortable as possible for yourself.
Facts & figures
| Product | Range |
| --- | --- |
| ACSI FreeLife magazine | 120,000 readers |
| ACSIFreeLife.nl | average 50,000 visitors per month |
| ACSI FreeLife Newsletter | 19,000 subscribers |
| ACSI FreeLife Facebook page ACSI FreeLife | 25,700 reach |
Important themes at ACSI FreeLife are:
• Travel
• Caravans
• Motorhomes
• Technical and practical issues
• Tow cars
• Campsites
• Practical experiences
In each edition, we look at travel destinations for campers. We write about countries, regions and/or campsites that are interesting to our readers. In that way, we try to get them enthusiastic about visiting these places.

Therefore, ACSI FreeLife is the medium to gain more attention within the Netherlands and Flanders for your country, region and/or campsite. Both offline as well as online. You can always ask about the possibilities and let us take you through the many options.
Collaboration
If you would like to collaborate with ACSI FreeLife magazine, we will be more than happy to provide input and make a customised creative concept. Please contact us for the possibilities.