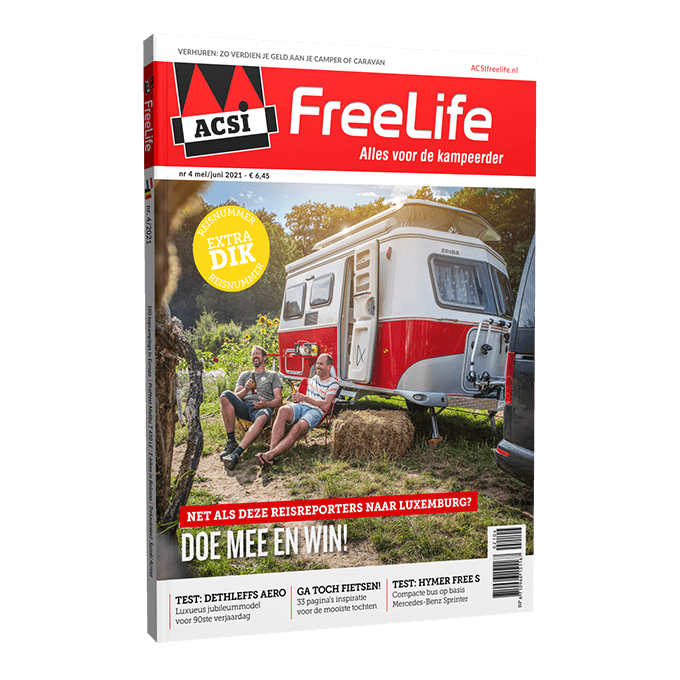 ACSI FreeLife is the brand within Europe's camping specialist ACSI which provides camping lovers with camping information and inspiration. In a positive and pleasant way, the editorial team uses online and offline resources to show you where you can go camping and, above all, the equipment you need to make it as comfortable as possible for yourself.
Facts & figures
| Product | Range |
| --- | --- |
| ACSI FreeLife magazine | 120,000 readers |
| ACSIFreeLife.nl | average 50,000 visitors per month |
| ACSI FreeLife Newsletter | 16,600 subscribers |
| ACSI FreeLife Facebook page ACSI FreeLife | 20,000 reach |
With 180 pages, ACSI FreeLife magazine is the most extensive camping magazine in the Netherlands and Belgium. With the amount of objective and comprehensive tests of both camping equipment as well as products, magazine readers can make a considered choice when making a new purchase. Additionally, we give DIY tips, discuss trends and developments and we publish interviews with stories of people's experiences. As the magazine's editorial team are also avid campers, they know like no other what campers expect. We are proud that readers have rated our magazine with a high 8 for the past 8 years!
ACSI FreeLife TestTour
The ACSI FreeLife TestTour is a multimedia project of over two weeks (with run up and phase-out periods) during which enthusiastic campers can test caravans and tow cars and discover a tourist region. During the TestTour we record the campers' adventures and experiences by way of background articles, ambience reports, videos, photos, vlogs and social media. The aim of the project is to capture authentic and inspiring images and stories and to achieve the greatest possible reach over a long period. Each year, we reach over two million Dutch speaking camping fans with the ACSI FreeLife TestTour.
Collaboration
If you would like to collaborate with ACSI FreeLife magazine, we will be more than happy to provide input and make a customised creative concept. Please contact us for the possibilities.